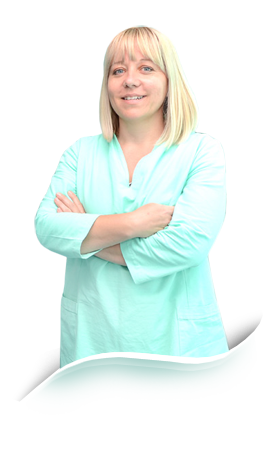 Dear Clients,

Aličković Dr. Amra is a specialist of oral surgery had she opened a dentistry practice "Amdenta" in March 2012, following eight and an half year-long practice of as a dentist, of which six years as a dentist of general practice and two and an half years of residency.

Aličković Dr. Amra was born in Sarajevo in 1973. She graduated from the First Gymnasium and Faculty of Dentistry at the University of Sarajevo, where she completed specialist studies in oral surgery, in addition to postgraduate academic study in dentistry, with the highest average grade 10.

She has participated at a number of international dental scientific meetings in Bosnia and Herzegovina, where she presented her co-authors: "Team Approach in Treating Mandible Malignancies" and "Thermocautery Gingivectomia in Pre-Prosthetic Preparation.

In the Medical Journal of 2011, she published, as co-author, an article titled "Genetic Aspects of Hypodontia and Microdontia and Prosthetic Restoration".

She is a sole author of several articles in specialised dentistry related additions of daily newspapers.

She is English speaking.



Mission

Dentistry was not chosen by virtue of family tradition or birth, but rather it happened to be my own choice of my future profession.

My mission is to set people free from fear of a dentist and help them get their money worth treatment they deserve and a smile they dream of.

Come and see! Smile with ease!